January 24, 2006
Lucas Update
The latest picture I have of Luke, Ain't it great!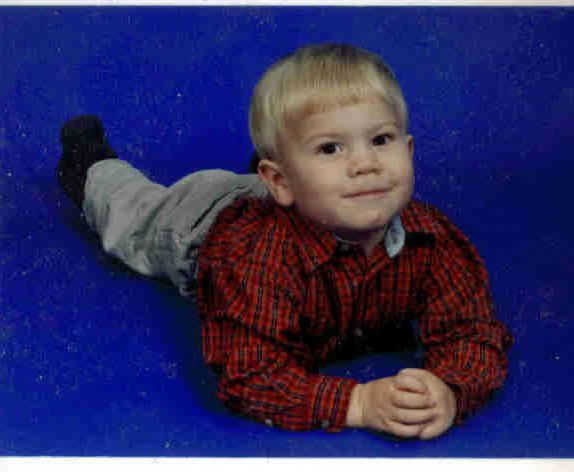 May 03, 2005
Juiced in Houston
I arrived in Houston last night without incident. I'm staying at the airport Marriott, so no rental car is required. Being without wheels is both freeing and confining.

When it's time to hunt and gather I hop on the tram and head to one of the four terminals. Not a bad way to live, if you don't mind paying airport prices. People watching at it's best, being the voyeur that I am.

This will be a week of starched shirts, shined shoes, shaking hands, making small talk, and maybe even taking care of some business. I get my 30 minutes in front of the crowd of 200 tonight. Wish me luck.

April 27, 2005
long may it wave...

April 02, 2005
Babysitting
Call me the perfect babysitter. Or maybe I should say sitting the perfect baby. Todd, Cassie, and Ashley went to the late movie tonight and I got the babysitting duties. Lucas moved around in his crib a few times, but otherwise slept like a baby. Easy job. I only checked in on him 80 or 90 times to see if he was still breathing. Most of the time I just stared at him and smiled that "alls right with the world" smile.

TGIF or early Saturday morning.

March 21, 2005
Tennis Anyone?
Yesterday I played singles/doubles with Lucas, Todd, and Cassie. It was a fabulous way to celebrate the first day of spring. Lucas loved dragging the rackets and chasing the balls. We only hit a few homeruns over the fence and Todd eventually found them all.

The Boston ferns are hanging, the humming bird feeder is up, and the petunias are in the planters. I can feel the sap rising. With the purchase of a few deck chairs, the patio will be ready to welcome the warm weather and outdoor living. I'm ready for lounging at the pool and splashing in the water with Lucas.

Good Friday means a short work week with lots to cram into a small space. After a week on-the-road there's always a backlog waiting on Monday morning. I'll tackle it today with a smile on my face just thinking about my next tennis match. Who knows maybe I'll even get to hold a racket?

March 16, 2005
Pryor
I made it to Pryor, OK without incident on Monday afternoon. The only excitement was the final approach to Memphis; it was like riding a roller coaster with a few of the wheels missing. On the drive from Tulsa to Pryor, I realized that Oklahoma looked just like Texas but without the cowboy hats and Mexicans.

Lunch on Tuesday was at an Amish restaurant called the Dutch Bakery. What a wonderful dining experience! The waitresses were in native costume... cotton bonnets, long dresses, white socks, etc. Where do they sell that stuff?

Now I want to be back in Chattanooga, back in the nest. I miss grilling out, Lucas, and all that goes with being at home.

I have lunch scheduled with Ashley during my two hour layover in Memphis on Friday. That makes me smile and know that maybe everything will be OK.

February 28, 2005
Unfit for Human Consumption
For the last few days, I've been unfit for human consumption. I've laid on the couch in an unshaven, unbathed, ill tempered state-of-mind. First you freeze, then you sweat, then you do it again. Today has been better (and that's a realitive term).

I managed to make it to work today and was somewhat productive. Feeling like my head was in an echo chamber, I heard things like global release, world-wide appeal, universal acceptance, and you're the man. Nothing made sense. At least I can now say that I'm home and have a 14 oz. ribeye to put on the grill.

Ashley will be home from Memphis this weekend for springbreak. She has that "I'm all grown up" way of showing up only at semester breaks and scheduled vacations. It's good to see, but I miss the "Daddy take me to the mall" days. If it weren't for my kids, I'd be living in a cardboard box under the Walnut Street bridge, waiting for the services and free meal at the rescue mission.

Ramble On!

February 22, 2005
On Making Lucas Cry...
Today I left work early, something I never do. The flu symptoms are creeping up my spine, caught in my throat, pounding in my head, and generally making me feel like leftover dog shit. I thought I'd spare my coworkers and isolate myself at home on the couch, hopefully sleeping.

I'd been asleep for a few hours when I heard Lucas (and Cassie) knocking. With the door cracked, I explained the deal and how I'll let 'em know when I think it's safe to hang out again. The whole time Lucas was forming a human wedge, shoving and pushing to get inside. Cassie, struggling to scoop Lucas up in her arms, asked if I needed anything. I said no just some rest and a little time to heal.

As they climbed the stairs to their apartment, I could hear Lucas screaming and crying like I've never heard before. It lasted forever. Later, I called to see if everything was going to be O.K. Sure it'll be alright and soon as Lucas understands why he was rejected from a place that means so much to him (and me). Now I'm lost in thought and don't know what to say except that it hurts.

Not only do I have the flu, but my heart in bleeding...

I love you Luke!

February 18, 2005
The Knock
Sitting at my bar last night waiting for the coffee to brew, I heard "the knock". It had been a long hard day and my mind was a thousand miles away. I heard the noise from just a few feet above the floor... soft, sporadic, but very determined. The Lucas knock is a one-and-only, what else would you expect from a 16 month old little boy. My gloomy mood brightened almost immediately.

He had his mom and dad intow and a book titled Trucks in hand. We sat down and read the book from beginning to end and then read it again (it only had 16 pages). From there he went to find the can of tennis balls and his blocks, I really should have more toys. He chewed the plastic top off the can, dumped the tennis balls, then went for the blocks. Playtime in Roger's living room was in full swing.

They didn't stay long, everyone had places to be and things to do. Thanks Lucas, you made my day. Come back soon!

February 15, 2005
Chinese Take-Out
Tonight is the night for Chinese soup, borrowed DVD's (thanks Todd), and balancing the books. Chinese is a comfort food for me. Balancing the books doesn't mean the check book or score card, it means taking a few compass readings and plotting a new course from here.

As I take new strides into the unknown, I look at myself in the mirror and wonder just what it is that I see? I work hard, love kids and dogs, am kind hearted, and have the manners of a true "southern gentleman" (if the circumstances present themselves). But... I ain't takin' any crap off of anybody, don't care what you think about me, and am very comfortable with who I am.

The three kids are the most important things in my life, everything else takes a back seat. Sometimes that has cost me dearly, but I wouldn't change a thing, not one. When it's all said and done, I want my kids to know how much I love them, how I have always put them first, and always will (even when they or anybody else doesn't want that or understand why).

So much BS for now, I've got to go pickup the Chinese, it's getting cold.

February 09, 2005
My Phone Bill
You wouldn't want my phone bill for today. I talked with or emailed folks from France, Brazil, Russia, India, Denmark, and Mexico City. It's a good thing they could all speak English, 'cause I can only speak Southern (East Tennessee Southern).

Other cultures have different ways of communicating and different points of view. I think my red neck is fading to pink, or maybe rose. Those Indians are way too polite which makes me very, very suspicious.

As a side-line.... My match.com search is progressing nicely, lots of pen pals but no lightning bolts, weak knees, or heart stoppers. I know she's out there somewhere, just don't know who she is, what she is, or what she looks like. Give me a clue, show me the way!


January 31, 2005
New Photo of Lucas
A recent picture of Lucas at 15 months old. I'll keep you updated as I get updated.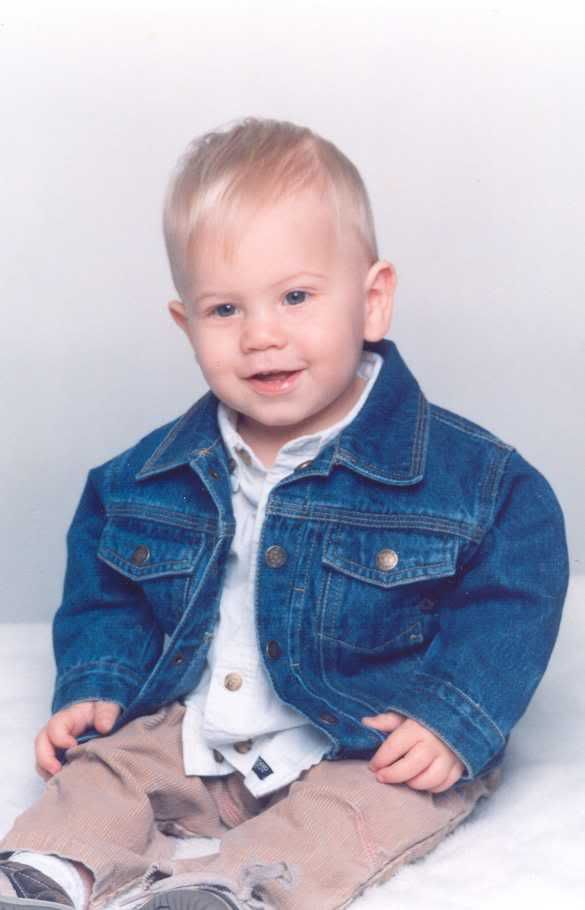 January 30, 2005
Home Again (for now)
I made it back from Parkersburg, WV with all the ice, snow, howling winds, and homesick feelings left behind. It wasn't a bad week, it's just that when I'm on the road I feel like I'm on stage. Work becomes an eight hour performance with no retakes and that can be exhausting.

Not only was I conducting a workshop, but I was teaching someone else to teach the workshop and had a "high roller" auditing as well. After work, I went back to my hotel room every night and struggled to get the new LMS software up and running. I finally nailed the new course offering Thursday night and turned on the switch to make it available globally today. I was initially uncomfortable with the "out sourcing" of the curriculum development process, but am settling in with my new place in the scheme.

Looking into my crystal ball, I think I better plan on more of the above. Maybe next time I'll find a warmer place with room service. Life is good!


January 19, 2005
Country Road Take Me Home
West Virginia... country road, take me. I know it's a song ( was it John Denver) but I don't remember all the words. The thoughts are coming through loud and clear. Next week I'll be in Parkersburg WV slippin' and slidin' and doin' the training thing.

I'll spend the week with John, teaching him to teach the workshop so that I don't have to go back to WV in February. This is John's second job, his real job is on Christmas eve and he only works one day a year. He could be my brother.

The grill is heating up so I better close and get the shrimp and corn on the ashes.



January 13, 2005
Southern Role Model
Today, we had a practice session for the virtual workshops that I sponsor world wide. We discussed software functionality, diction, speaking into the microphone, muting speakers, and speaking slowly. After thinking about it I asked if I should slow down my speech pattern?

I was told "no", that I was the "role model" for all others. Realize that most of the presenters are Yankees and talk way too.... fast. Most of our target audience have English as a second language. Appreciate who you are and how you speak! For those who English is a 2nd language, Southern is the easiest to understand. I've come to realize that anyone's uniqueness is special.

Enjoy who you are and how you got there! You are special and have a place in the world. Love who you are!